You're Only Seconds Away...
No-Risk Secure Acceptance Form
Yes, Sharda, please rush me my copy of ebook because I want to learn all I can about my Boston Terrier now!
I understand that I will be receiving the instantly downloadable Boston Terrier package titled "The Insider's Guide To The Happiest, Healthiest And Most Well Behaved Boston Terrier On The Block".
Because I am one of next 50 to order, I will receive all of the following;

Over 110 page ebook on the Boston Terrier

1st FREE bonus ebooklet titled "Walking Your Boston Terrier on a Leash"

2nd FREE bonus ebooklet titled "Teach your Boston Terrier 13 easy tricks"

3rd FREE bonus ebooklet titled "Changing your Boston Terrier's temperament for the better"

4th FREE Bonus Dog grooming audio transciption

5th FREE bonus Free email consultation with Sharda Baker

LIMITED TIME SPECIAL 6th FREE bonus Dog Training Audio Transcription. (for a limited time)
That's $117.00worth of value for just $27.77
Sharda's Iron Clad Guarantee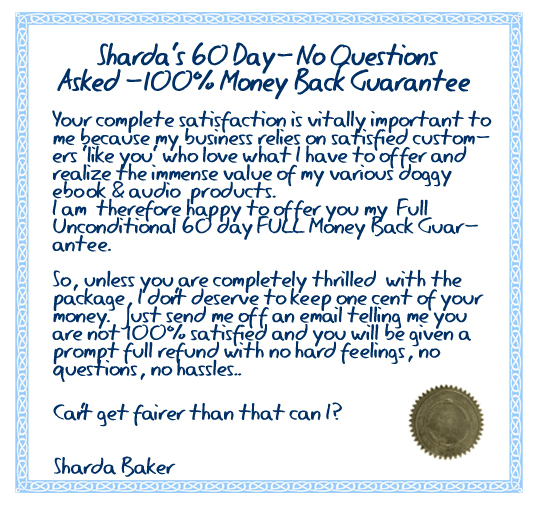 I have read and accept the purchase agreement. Purchase agreement

Please Note: The safe & secure order form on the next page looks like this below;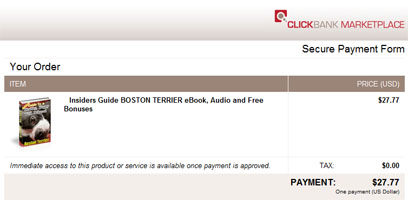 Warmly,